Friday, October 4, 2019
|
8:00 AM
Damuth Trane Intelligent Services Technician Earns Cisco Certification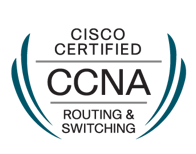 Clint Damuth, President of Damuth Trane, announced that Matt King, Intelligent Services Technician, recently achieved the designation of Cisco Certified Network Associate (CCNA) for IT professionals.
Cisco is the authority in networking, and a CCNA designation is notoriously challenging and sought after. This August, Matt passed the final CCNA exam after over two years of preparation, which included 80 hours of online and in-person lectures, 50 practice simulations, and countless hours of studying a 1000-page manual to pass the two required exams.
"In an ever-changing world of Information Technology and the digitization of data, products, and processes, it is important that we be diligent to help guard against unauthorized access to computers and networks. The Building Automaton Systems (BAS) within our clients' facilities are an integral part of their digital infrastructure. We are committed to implementing cyber security best practices for secure remote access and communications with BAS. Having a Cisco Certified Network Associate on staff is just one way we demonstrate this commitment," commented Clint Damuth.
Matt graduated from Wheeling University in 2013 with a Bachelor of Science degree in Physics and joined Damuth Trane in 2017 as an Intelligent Services Technician. Prior to joining the company, Matt worked with Trane's Building Automation Systems (BAS) and Intelligent Services businesses in the secure collection of raw HVAC data for analysis and reporting.  He is currently responsible for managing Damuth Trane's connected building portfolio, which includes over 400 sites, and troubleshooting any end-to-end connectivity issues.
Roger Shull, Damuth Trane's Director of Energy Business Development added: "We're proud of Matt's efforts and dedication over the past few years to broaden his knowledge and IT skills. CCNA certification is an achievement that very few of his peers in the Building Automation and Energy Management Systems industry have accomplished.  As a leader in connected buildings, Damuth Trane will continue to develop and recruit professionals with certifications and licensures of Professional Engineer (PE), LEED Accredited Professional (LEED AP), Certified Energy Manager (CEM), and now CCNA."
Damuth Trane is proud of Matt for achieving the CCNA designation and values the skillsets he brings to the company and our clients. For more information on the CCNA program, visit www.cisco.com.