July 13, 2021
Damuth Trane recently hosted its inaugural "Signing Day" event for their upcoming class of apprentices at its Trane Parts Chesapeake Warehouse on Friday, July 9. The event featured a presentation from Bob Gunderson, Service Operations Team Leader, followed by a ceremony for the new apprentices to sign a commitment letter to the program alongside Bob and Damuth Trane's president, Clint Damuth. It was attended by the new apprentices and their families as well as members of the company's Senior Leadership Team, Service Team Leaders, current class of apprentices, and representatives Skip Krepcik of Tidewater Community College and Dave Gillespie, President of Virginia Technical Academy.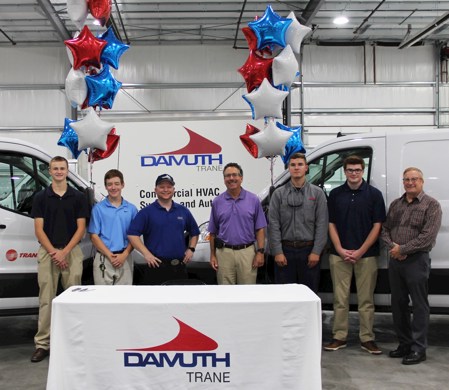 Damuth Trane has been employing full-time apprentices to complete a four-year Virginia Registered Apprenticeship Program since the program's inception in 2018. They currently have six apprentices that have started between 2018-2020 and their first graduating class is expected to complete the program in 2022. This year, Damuth Trane welcomed five new apprentices to the program: Jake Teeple, Chase Brown, Liam Bruce, Dylan Stinson, and Cameron Lambert (pictured left to right).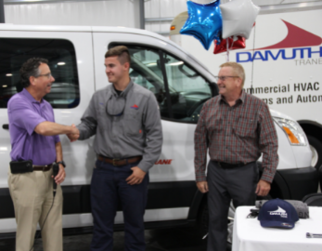 Apprentices for Damuth Trane begin the program as full-time associates of the company, earning a competitive paycheck and benefits coverage while they complete their training and classes. They must complete 8,000 hours of on-the-job training (OJT) performing service-related duties, and 576 in-class instructional hours at a state approved learning facility. Currently, Damuth Trane partners with Tidewater Community College and Virginia Technical Academy in Newport News to recruit and train new members of their team. In turn, Damuth Trane will cover 100% of the tuition and equipment costs depending on apprentices' grades. At the conclusion of the program apprentices' will be ready to sit for their HVAC Journeyman's License.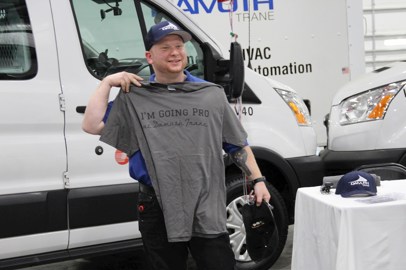 "We are thrilled to be adding another group of apprentices to the fold," remarked Bob Gunderson, Service Operations Team Leader; "Being able to train new members of the HVAC industry from day one and have them hone their skills with our company is a privilege and responsibility that we at Damuth Trane are proud to undergo. We are excited for this program to create fulfilling, lasting careers for years to come!"

 The Virginia Registered Apprenticeship program is an employment training model that produces highly skilled workers to meet the demands of employers competing in a global economy, through a combination of on-the-job training and related technical instruction. Learn more about Damuth Trane's apprenticeship program at www.damuth.com/careers
---
For more information, please contact:
Bailee Keaton, Marketing Communications Coordinator, bailee.keaton@damuth.com; 757-558-3304