November 16, 2021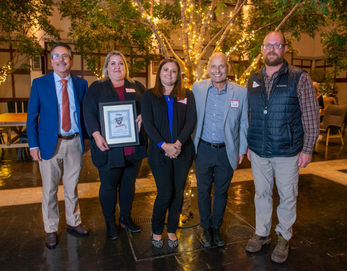 Damuth Trane was recently named as an honoree at the 6th Annual Giving Back Awards. The annual list of nonprofit organizations and local businesses presented with a Giving Back Award is presented by Coastal Virginia Magazine.
The Giving Back Award honorees are made up of outstanding Hampton Roads nonprofit organizations and businesses that give back to the local community and enrich the lives of others. Businesses who applied or were nominated answered a series of questions concerning their available opportunities for associates, corporate charitable initiatives and philosophy of giving, as well as overall breadth and history of community involvement. Considerations for selection of this year's honorees included the strength of mission and contribution to the community as represented by examples included in their nomination. The selection process also reflected an effort to represent the diversity and breadth of the nonprofit organizations and businesses that give back in the Hampton Roads region. All submissions were reviewed and selected by a group of area community leaders and the winners were recognized at the Community Impact Awards Reception on November 10, 2021.
Damuth Trane encourages volunteer service from its associates, and partners with local non-profits such as the United Way of South Hampton Roads to offer associates the opportunity to do so. In addition to corporate-led volunteerism, the company gives charitable contributions and equipment donations to several organizations in the region each year. Damuth Trane gives back to not just the local community but their employees as well, by offering internships, mentorships, continuing education and training opportunities for its associates.
Their philosophy of giving originates from founder Don Damuth who was committed to giving back since the company's beginnings. He instilled this compassion and heart for service into his sons, Clint, Phil, and Roger who are carrying on the legacy he created. Phil Damuth, company Vice President and head of its community outreach, expressed: "We're honored to be recognized with this award and are blessed to have associates, clients, and community partners who support our company's focus of 'giving back.' It truly takes a team effort to make an impact, and we have a great one rallying behind us here at Damuth Trane. We give all the credit to them for allowing us to continue this mission!"
For more information on the Giving Back Awards program and to view the full list of this year's honorees, visit https://www.coastalvirginiamag.com/helping-from-the-heart/
For more information Damuth Trane's community initiatives, visit: www.damuth.com/who-we-are/in-the-community/